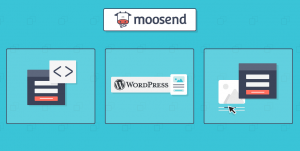 Many people wish that a free email marketing program could help them manage their email campaigns without breaking the bank. Moosend aims to be that program. It caters to small business owners having less than 1,000 subscribers, and if there are more than 1,000 subscribers, one can get access to the same features for a flexible pricing plan. Moosend can easily integrate with the majority of third-party software. And when compared to the competition, its strengths will help you to decide whether it is the right choice for your business or not.
Moosend features and subscriptions


Automation is where Moosend shines, and it has plenty of it. It includes easy tracking and management of the contacts, automated cross-selling, customer journey charting, and shoppable emails. There are around 40 readymade templates that you can choose from; therefore, no matter what industry your business lands in, there is something for everyone.
Your subscriber email list is an essential part of marketing, and with Moosend, you can keep your subscriber lists organized. This helps you to add subscribers individually or by an entire database. As with other email marketing automation tools, all the packages have a primary sign-up form that you can customize and add to your social media and website.
There is a monthly subscription for businesses with over 1,000 subscribers with discounts for the annual and biannual payments. Companies that don't send enough emails to justify a monthly subscription have a credit-based pay-as-you-go service for them. $3 can buy you 1,000 credits, $15 can buy you 5,000 credits, and $75 can buy you 25,000 credits.
PROS AND CONS OF MOOSEND


PROS
Companies having under 1,000 subscribers can access the Moosend features for free.

The pricing plans for businesses with more than 1,000 subscribers are flexible.

This software can easily integrate with lead generation tools, CRM software, and other third-party marketing software.
CONS
 There is no mobile app or an SMS messaging capability in this product; therefore, you cannot coordinate mass texts like you can with emails.
REASONS TO CHOOSE MOOSEND


Moosend makes it easy for a business with the tightest budget to get onboard with professional emailing.

The free plans, monthly subscriptions, and pay as you go payment options allow flexibility to businesses of all sizes and budgets.

There are many unique features with Moosend, such as built-in automation templates and zoom filterings like weather and location.

It has excellent customer support, and there is a good reason for that. Users having issues can contact support by phone, live chat, or email, and the response time is excellent.
CONCLUSION

The brand itself is catchy enough to capture your attention; what more are the features that thousands of users have tried? Moosend is a compelling email marketing platform with world-class features, an award-winning user interface, and state-of-the-art marketing automation. You can use it to manage your mailing lists and multiple email campaigns. 
Additionally, you can also use the design to send striking and responsive newsletters created on the built-in campaign editor. With Moosend, you can upgrade your marketing campaigns with personalization tags, intelligent email automation, subscription forms, landing pages, and meaningful campaign reports. Cool right? This may be the solution you're looking for. Try it now!