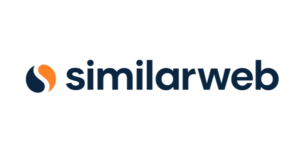 SimilarWeb is an online competitive intelligence service founded by Israeli start-up SimilarGroup, which delivers traffic and marketing data for any website. Consumers can get a quick snapshot of a site's reach, ranking, and user interaction with the tool. Users can look for information by typing in a single website URL or by performing a categorized search by industry or country, which returns the top 50 websites.
SimilarWeb turns raw data to exciting and valuable website metrics, such as traffic sources, organic vs. sponsored search, social traffic, similar websites, and much more. SimilarWeb's default view (audience overview) shows website traffic for the previous six months. It shows the global, US, and category rankings and audience statistics by country and traffic source.
LET'S DIG DEEP
Users can utilize SimilarWeb to gain worldwide multi-device market analytics to analyze better, track, and expand their digital market share. It provides users with the information they need to create a competitive advantage.
For data collecting, the program does not rely on a single channel. It uses various sources to produce the most consistent and precise depiction of the digital world possible. Gathered data will be directed into SimilarWeb's data processing systems, which turn billions of daily data points into actionable data.
The information on SimilarWeb comes from four key sources: A panel of monitored devices, the industry's broadest at the moment; local internet service providers in a variety of nations; web crawlers can scan every publicly accessible website to produce a highly accurate map of the digital market, and there are hundreds of thousands of accurate quantitative sources from websites and apps that are intimately linked to it. This definitive source of information aids in the continuous improvement of the learning set, fine-tuning algorithms, and precise assessment of traffic statistics for all websites and mobile apps.
Before launching, SimilarWeb spent many years creating the data-gathering infrastructure and perfecting the data collection techniques. SimilarWeb is confident in its ability to provide the most accurate and reliable statistics on the internet. The larger the panel, the more statistically precise the insights will be when it comes to data.
SIMILARWEB FEATURES
The industry analysis tool is extremely useful in determining how your industry is evolving, for example, from a rival stealing your business. Even though the other industry professionals are your most significant competitors, industry analysis doubles as a competitive strategy. Using this tool to compare yourself to others in the business and better understand your competition can help you achieve the competitive advantage you require. This tool is handy because it provides precise information about your competitors' audiences and online habits.

You can split down your audience's preferences with the audience analysis feature to better understand their perspective. This feature is crucial if you want to ensure that your website environment is one that your target audience will love and return to.

SimilarWeb has a visually appealing interface with a plethora of information separated into eight categories: Geography, Referring Sites, Search Traffic, Social, Display Ads, Demographic, Similar Sites, and Mobile Applications. In the free version, you can compare up to two websites side by side. A comparison of up to 5 sites is accessible in the PRO edition.

PayPal, Outbrain, Taboola, eBay, Eventbrite, and Flipkart.com are just a few examples of companies that have used SimilarWeb Pro to increase their website's reach and audience. Apart from that, businesses can use the system's characteristics for purchase and merger activities and marketing expansion endeavors.

SimilarWeb Pro has a customizable price plan, which is one of its best advantages. For starters, they provide a completely free program. The solution also employs a quote-based pricing mechanism, ensuring that customers only pay for things they require or can afford. A free live demo is also available from the vendor with no conditions attached.

SimilarWeb Pro offers consumers information on the traffic and effectiveness of their competitors' websites and mobile apps. From a web-based control panel, you may check the traffic data of any indexed webpage. You can look into the number of page views, monthly visitors, visit length, and website bounce rate. It can also show details about the site's geographic traffic and client preferences. This tool also offers the reporting functionality that one would expect from a premium BI package. Still, it is far more customizable, allowing customers to build reports to their specific industry needs.

SimilarWeb has taken a massive move into the mobile sector, as one would expect from a big internet brand. Their application provides in-depth mobile app assessments that provide helpful information about your app and allow you to evaluate it to other apps in the same sector or classification.
PROS AND CONS


Pros
This software helps analyze competition website performance. It gives me an up-to-date assessment of my own website's performance against that of competitors.

It shows the global, US, and category rankings and audience breakdowns by country and traffic source.

Multi-user access, leading level assistance, comprehensive API connection, and bespoke reporting are just a few of the features that Large and Multinational Enterprises will appreciate in SimilarWeb Pro. There are also no restrictions on the number of websites that users can create.

SimilarWeb has a free version that allows users to get a concept for the tool while having restricted access to the PRO tool's features.

You may store site reports and get weekly updates on them using SimilarWeb. The alerts will be shown on your user dashboard and emailed to your e-mail account.
Cons
Traffic estimates are only available for entire months; it is not possible to set individual date ranges.

Because the sample size per market appears to be tiny, the data's accuracy and reliability are questioned.
BOTTOM LINE
SimilarWeb does provide competitive data about your sector and primary competitors if you are a site owner or a digital marketing professional. It allows you to see what your competitors are up to, compare their results, and gain a feeling of your industry.
You should pay special attention to the data estimations offered by SimilarWeb when measuring campaigns and making advertising decisions based on traffic quantity and conversion rate, and assess whether or not they make sense when compared to reliable statistics from Google Analytics, for instance.
When it comes to audience geo profile, SimilarWeb may be the ideal option if you want to track traffic from all over the world. Finally, SimilarWeb provides a reasonably accurate estimate for determining the demographic breakdown of various traffic streams driving to the evaluated site.
Overall, SimilarWeb is an indispensable tool for "heavy-duty" web entrepreneurs. Get a grasp of their services now and grow your business further.